UNITEE provides specialized fitness merch programs that make it easy for any gym or studio to provide high-quality custom merch to their health-minded communities. In a nutshell, these are the 3 Big Picture Ways We Help Each and Every Gym We Work With:/h3>
1. Make Apparel Easy On You As The Busy Owner By Streamlining Everything

2. Have Less Wasted Inventory & Always Be Net Positive With Every Apparel Run

3. Get All Runs To You In A Timely Manner
Tshirts and Merch Are Supposed To Be The FUN PART! Not A PAIN IN THE BUTT TO MANAGE!!!!
We understand you're put on this earth to change lives and be the best coaches and community leaders you can be…not deal with t-shirts and merch! We hear all the Issues daily:
1. I Don't Have Time To Collect Sizes, Quantities and Money All Day! I need an Easy System That Is Hands off.
2. The Minimums Kill Us!
3. I need Help With The Artwork!
4. My Local Printer Doesn't Prioritize Us. We're always getting shoved in the back of the line
5. We Need More Flexible Options Like Different Colors Garments Without Breaking The Bank
6. We Have A Very Specific Type of Garment We're After and My Local Printer Doesn't Offer That
Fortunately, we've worked with enough gyms and been doing this long enough to offer you some easy solutions for your merch. It literally takes 3 easy steps and best of all…we're gonna do all the heavy lifting for you:
3 Simple Steps To Better Fitness Merch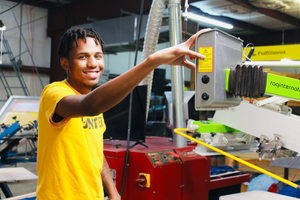 1. Give Us A Call
Let's talk briefly so we can better understand what you need and envision how we can help you all out
2. Get Custom Mockups
After gathering all of your info, we'll send some custom design and merchandising options based on your needs and expectations.
3. Sell, Print & ENJOY!
Upon approval of your mockups, we'll help you figure out the best strategy to sell your custom merch. Once orders are taken, we'll handle the rest. All your orders arrive neatly packaged and organized for distribution to your members.
We've done this so many times, you'll feel like our system is literally an easy-button for your ongoing merch needs!
Call: 337-257-0498 To Get Started
Trusted By Fit Communities Everywhere Since 2013
UNITEE extremely easy to work with. In all my years of coaching and having to design and order clothing items for teams, these guys have been the easiest and fastest to work with. They gave me 4 different designs to choose from and did this free of charge. They made changes for me on the design I choose for free. The pricing of the shirts is fair and comparable to others that I have seen. They quickly respond to my emails. They can accommodate any number of items.
Alan Fontenot, Crossfit Coach

Thank you Tanya and the UNITEE team. Keep up the great work. Customer service goes a long way!
Jeremy Hohle, Ragin Crossfit

The shirts are freaking awesome!!
Trent Luecke Owner, Recalibrated Strength and Conditioning

Thank you guys!! Anytime people ask me about shirts I tell them about y'all!! Y'all always take amazing care of us!
Troy Folse Owner, Crossfit 28
When you work with UNITEE our goal is to help you accomplish the following:

1. Make Apparel Easy On You As The Busy Owner By Streamlining Everything

2. Ensure You Have Less Wasted Inventory & Always Be Net Positive With Every Apparel Run

3. Get All Runs To You In A Timely Manner
Call To Order: 337-257-0498
UNITEE // Fitness Merch
American Facility:
312 Wall Street, Lafayette, Louisiana, 70506
• Mon - Fri, 8:30- 7 PM
•Sat. & Sun - Closed But Feel Free To Text If You Need
337-257-0498

International Inquiries: Please Email Us at: info@uniteemerch.com